Topics: 2016
JPRS Held 7th ".jp DNSSEC Key Ceremony"
(5 October 2016)
On Tuesday, October 4th 2016, JPRS held the ".jp DNSSEC Key Ceremony."
In public-key cryptography, a key ceremony is a procedure that a unique pair of private and public keys is generated. In JPRS, a key ceremony, or .jp DNSSEC Key Ceremony, is a procedure creating key- and zone-signing keys and signing the .jp zone.
It is vital to ensure the reliability and stability of DNSSEC that the procedure for generating and managing the key pairs is properly and securely executed. For this reason, JPRS invites the External Witnesses, who are not affiliated with JPRS, to the .jp DNSSEC Key Ceremony.
In this .jp DNSSEC Key Ceremony, the External Witnesses observed the key ceremony and attest that it has been executed as described in the key ceremony procedures. After the ceremony, the witnesses signed the "Check Sheet for .jp DNSSEC Key Ceremony."
External Witness: Dr. Kensuke Fukuda (National Institute of Informatics)
External Witness: Ms. Kinuko Mitsugi (Computer Engineering & Consulting, Ltd.)
The key created in the key ceremony will be published in accordance with the following schedule.
Publication Schedule:
November 9th 2016
* Publish the new DNSKEY resource record in the .jp zone
Mid-November 2016
* Publish the new DS resource record in the root zone
* Remove the obsolete DS resource record from the root zone
November 25th 2016
* Remove the obsolete DNSKEY resource record from the .jp zone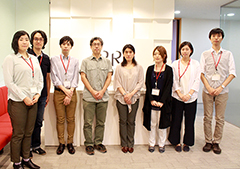 From left,
Ms. Higashida (JPRS), Mr. Funato (JPRS), Mr. Niwa (JPRS),
Dr. Fukuda (National Institute of Informatics),
Ms. Mitsugi (Computer Engineering & Consulting, Ltd.),
Ms. Harada (JPRS), Ms. Watanabe (JPRS), Mr. Noguchi (JPRS)