Topics: 2007
7 TLD Registries Announced a Declaration toward a Harmonized Information Society
(22 June 2007)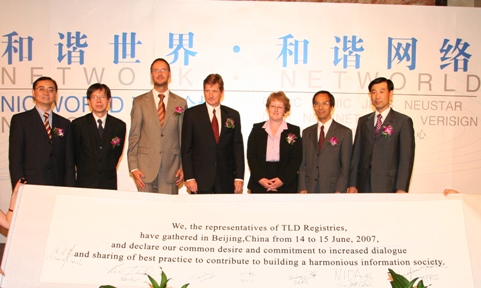 7 TLD registries' representatives holding the declaration (source: CNNIC)

From 14 to 15 June, 2007, the following seven (7) top-level domain name registries gathered in Beijing, China.
At the meeting, they exchanged information with each other and agreed that they, as the TLD registries, would continue to cooperate for contributing to building a sound information society. As a result, the participating representatives signed the following declaration:

We, the representative of TLD registries, have gathered in Beijing, China from 14 to 15 June, 2007, and declare our common desire and commitment to increased dialogue and sharing of best practice to contribute to building a harmonious information society.