Topics: 2003
Service Migration Schedule of Japanese JP Domain Name
(Updated: 4 September 2003)

As a result of standardization of IDN, RFCs were published on 7 March 2003. In accordance with the standardization, Punycode was adopted as the ACE encoding.
JPRS has carried out change of Japanese JP Domain Name services in compliance with RFCs, and completed the change on 4 September 2003.
Currently, application softwares such as Web browsers have been in the process of transition into Punycode based version. If you employ Japanese JP domain names in your DNS and/or Web server, it is required that you complete setup with Punycode.
JP DNS set "Resolution Overlap Period" to enhance smooth migration of ACE settings from RACE to Punycode, with a minimum impact to operators and end users.
Following is the diagram of service migration schedule: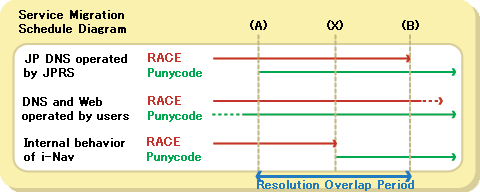 (A) JPRS started "Resolution Overlap Period" of both encodings on JP DNS (10 July)
JPRS started supporting both RACE and Punycode in JP DNS servers. Since then Japanese JP domain names with Punycode had become accessible as long as Punycode setting of those domain names in their DNS and/or Web browser was completed.

(x) i-Nav™ plug-in is changed into Punycode version (30 July)
The i-Nav™ plug-in distributed by JPRS, was changed into Punycode-compatible version. Access to Japanese JP domain names through i-Nav™ plug-in is supported by Punycode only.

(B) Termination of RACE support in JP DNS (3 September)
JPRS terminated its RACE support on 3 September. From 4 September, RACE configuration in your DNS and/or Web server can be removed.

Related RFCs