Press Release: 2015
Press Release
23 June 2015
Japan Registry Services Co., Ltd. (JPRS)
JPRS signs MoU with ICANN and JPNIC on Japanese translation of ICANN materials
On June 22, 2015, JPRS signed a Memorandum of Understanding (MoU) with the Japan Network Information Center (JPNIC) and the Internet Corporation for Assigned Names and Numbers (ICANN) on a collaboration for translating ICANN materials into Japanese. Through this MoU, the parties agree to work with each other to produce Japanese translations of ICANN materials in order to enhance the understanding and participation of the Japanese community regarding ICANN activities.
JPRS has actively participated in the establishment of ICANN since the early days and has developed various policies and guidelines. JPRS has supported private-sector-led Internet resource management and coordination centering on ICANN. Accordingly, JPRS has participated in ICANN-related activities both physically and online, provided updates and collected opinions on ICANN activities in ICANN readout meetings hosted by JPNIC and IAjapan, and translated and published ICANN materials of importance to the Japanese community.
In February 2013 and then in April 2014, Mr. Fadi Chehade, President and CEO of ICANN, and Mr. Koki Higashida, President of JPRS, reaffirmed their partnership and further cooperation in activities in the Asian region and Japan to help ICANN reinforce links with local communities in the future. As part of the outcome of such cooperation and reflecting the opinions of partner organizations including JPRS, ICANN established its Asia Pacific Hub office (ICANN APAC Hub) in August 2013 and ICANN Japan Liaison in September 2014 to build closer links with the Japanese community.
Meanwhile, JPRS continues to support ICANN activities. For instance, JPRS is playing a leading role in establishing Japanese Generation Panel (JGP) and developing Japanese Root LGR under the framework of ICANN IDN projects.
Regarding the provision of information to the Japanese community, ICANN, JPNIC, and JPRS have played major roles in the Japanese translation and publication of ICANN materials and explanation of ICANN activities in Japanese. However, in doing so, the three organizations have tended to translate, make content, and publish materials independently from each other, resulting in incomplete coverage of content and inconsistent terminology.
To improve the situation and better meet the needs of the Japanese community, ICANN, JPNIC and JPRS agree to coordinate and collaborate in the following respects by signing this MoU:

jointly identify new ICANN materials that require translation into Japanese, based on the needs of the Japanese community
jointly share, as appropriate, the translated materials, or links to access these materials upon completion
jointly provide input to ICANN's glossary for Japanese translations, to ensure that the language used in ICANN materials is as consistent and as relevant to the Japanese community as possible
JPRS will continue to support the private-sector-led Internet resource management organization under ICANN and contribute to the sound development of the Internet in the future.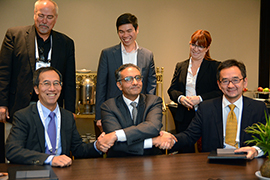 From the left side of the front row,
Mr. Hirofumi Hotta (Director of JPRS)
Mr. Fadi Chehade (President and CEO of ICANN)
Mr. Akinori Maemura (General Manager of Internet Development Department, JPNIC)
---
About JPRS
JPRS is a leading service provider for management and registration of domain names and for the domain name system (DNS) operations. The company was established on December 26, 2000. As a company dedicated to maintaining the Internet infrastructure of Japan, JPRS operates under a corporate philosophy which aims to contribute to the expansion of the Internet and to building a better future for people and society.
---
References
---
Press Contacts
Japan Registry Services Co., Ltd. (JPRS)
TEL: +81-3-5215-8451 FAX: +81-3-5215-8452
E-mail: press@jprs.co.jp
http://jprs.co.jp/en/
Chiyoda First Bldg. East 13F, 3-8-1 Nishi-Kanda
Chiyoda-ku, Tokyo 101-0065, Japan