Topics: 2019
JPRS Welcomed Junior High School Students as an Educational Support Activity
(25 October 2019)
On 24 October 2019, JPRS welcomed students of Ishikawa Prefectural Kanazawa Nishikigaoka Junior High School.
Kanazawa Nishikigaoka Junior High School conducts visits to various companies and organizations during its school excursions for the purpose of career education.
On this day, six second-year students from the school visited JPRS Tokyo Head Office, and JPRS outlined its business and domain name services as well as the mechanism of DNS to the students.
Since 2013, JPRS has been supporting company visit that helps high school and junior high school students think about their future career.
JPRS will continue to actively engage in such educational support activities.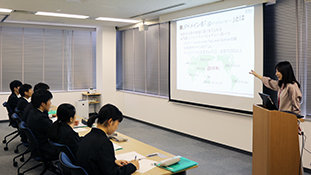 Company visit to JPRS