Topics: 2005
Compliance of JP Domain Name Registry Service to "Personal Information Protection Act"
(Translated: 10 May 2005)

In Japan, the "Personal Information Protection Act (the Act)" became fully effective on April 1, 2005. This page explains how JPRS accommodated its JP domain name services to this Act. The following page provides a full explanation of documents such as registration rules that are currently applied to JP domain name registration, based on the concept explained in this Web page.

Amendment of the registration rules (in Japanese)
http://jprs.jp/info/notice/200504-rule.html
What is the "Personal Information Protection Act"?
The Act was officially announced on May 30, 2003, and it defines appropriate handling of personal information. The philosophy of this law is to harmonize two concepts: respect for individual personality; and effective usage of personal information in enterprise activities.
Publication: principle of domain name registration information
Once a domain name is registered, information including its registrant and contact address is published on the Internet. This basic rule is applied not only to JP domain names but also to domain names all over the world.

(Figure 1: Flow of Information registration and publication)

The rule is adopted to make it possible to solve various operational problems among users through mutual cooperation on the Internet which does not have a centralized control structure. This is called as problem solving system through autonomous distributed collaboration.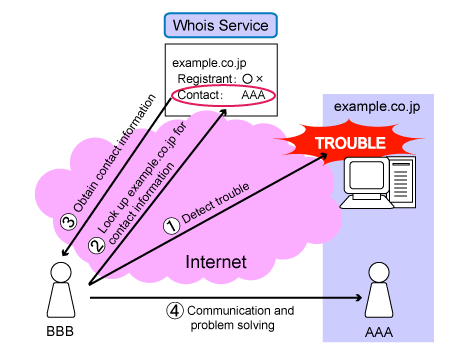 (Figure 2: Problem solving through autonomous distributed collaboration)

However, as the Internet usage increased, the users and operation style have changed significantly. Moreover, demands for personal information protection have been changing.

Stance of JPRS
As for JP domain names, introduction of General-Use JP domain name that can be registered by individuals and spread of services utilizing domain names have significantly driven the development of the Internet. And more personal information is being included in the disclosed registration information than ever.
With the enforcement of the Act as of April 1, 2005, JPRS incorporated the requirements in the Act into its operation, while keeping the publication principle based on the current status of the related discussions taking place at the global level. Through reviewing the range of publication and the procedures, JPRS is trying to provide services balancing both the concept of personal information protection and that of publication. In addition, it is noted that the new services to protect personal information, such as so-called proxy service, are emerging.
JPRS regards the balance between the above-mentioned two concepts as a delicate issue which needs discreet contemplation. This understanding is shared globally, and active discussion has been taking place. JPRS plans to participate in the global discussions and to promote activities to establish a new policy capable of coping with the Internet of the present and future, through consulting with related parties.

Response of JP domain name services to the law amendment
1. Documentation and publication of data handling policy
The Act requires clarification of methods to handle personal information, including identification of usage purpose and process of third-party disclosure. JPRS developed a detailed document describing the handling of registered JP domain name information.
JPRS handles JP domain name registration information according to the following document.

Handling of Registered Information on JP Domain Name (in Japanese)
http://jprs.jp/doc/rule/dom-data-handling.html
2. Change of Whois Service
JP domain name registration information is published on the Internet through JPRS Whois Service. The following Web page describes the details of Whois service change which took effect on March 22, 2005.

Whois Service change
http://whois.nic.ad.jp/cgi-bin/whois_gw
Relationship among registrants, JP Registrars and JPRS
Registrants of JP domain name file various applications through JP Registrars. Policy and procedure for handling the registration information are specified in the above-mentioned documents, as well as explained by each JP Registrar to its customer.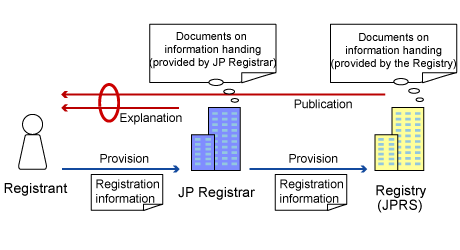 (Figure 3: Flow of registration data)

Inquiry
For inquiry, please contact the following:

E-mail: info@jprs.jp
TEL : 03-5215-8457
The following page contains frequently asked questions and answers about handling of JP domain name information.

Frequently Asked Questions about Handling of JP Domain Name Information
http://jprs.jp/info/service/disclosure/qa.html (in Japanese)

Reference

Personal Information Protection Act (Prime Minister of Japan and His Cabinet)
http://www.kantei.go.jp/jp/it/privacy/houseika/hourituan/ (in Japanese)

Note

This content is an informational translation of the following Japanese document:
http://jprs.jp/info/notice/200504-policy.html