Press Release: 2021
26 February 2021
Japan Registry Services Co., Ltd. (JPRS)
JPRS Launched its 20th Anniversary Website "HISTORY OF 20 YEARS"
JPRS Launched its 20th Anniversary Website "HISTORY OF 20 YEARS"
- Introducing our Beginnings, Challenges, Contributions to the Internet Development -
Japan Registry Services Co., Ltd. (JPRS: Chiyoda-ku Tokyo, President Koki Higashida) is pleased to announce today, the launch of its 20th anniversary website "HISTORY OF 20 YEARS."
JPRS celebrated its 20th anniversary on December 26, 2020. The website "HISTORY OF 20 YEARS" introduces its beginnings, challenges, contributions to the Internet development, and other achievements.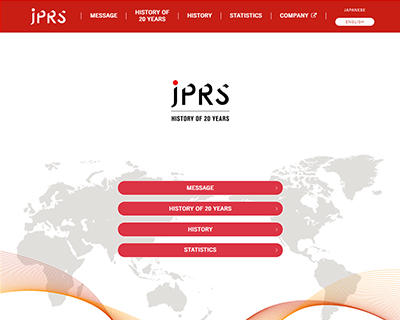 The 20th Anniversary Website "HISTORY OF 20 YEARS"
Table of Contents
On the 20th Anniversary of JPRS
A History of JPRS for the Last 20 Years
・Establishment of JPRS and Introduction of General-use JP Domain Names
・Infrastructure Development as the .JP Registry and Contribution to Development of the Internet
・Venturing into a New Realm
・Building up on Prior Achievements
・The future

History
Statistical Information
・Trend in the Sales and the Number of Employees
・Trend in the Number of Registered JP Domain Names and the Number of gTLD Domain Names under Management

As a company that supports the network infrastructure, JPRS will continue to make further efforts to improve the quality of its services, and thereby contributing to the development of the Internet and the building of a better future for everyone.
---
About JPRS
JPRS is a leading service provider for management and registration of domain names and for the domain name system (DNS) operations. The company was established on December 26, 2000. As a company dedicated to maintaining the Internet infrastructure of Japan, JPRS operates under a corporate philosophy which aims to contribute to the expansion of the Internet and to building a better future for people and society.
---
Press Contacts
Japan Registry Services Co., Ltd. (JPRS)
TEL: +81-3-5215-8451 FAX: +81-3-5215-8452
E-mail:
press@jprs.co.jp
https://jprs.co.jp/en/
Chiyoda First Bldg. East 13F, 3-8-1 Nishi-Kanda
Chiyoda-ku, Tokyo 101-0065, Japan