Press Release: 2017
Press Release
27 June 2017
Japan Registry Services Co., Ltd. (JPRS)
Hirofumi Hotta of JPRS Received the ICANN 2017 Multistakeholder Ethos Award
- ICANN recognized his outstanding contributions in ICANN community -
Japan Registry Services Co., Ltd. (JPRS: Chiyoda-ku, Tokyo; President Koki Higashida) today announced that Hirofumi Hotta, Director of JPRS, was awarded the 2017 Multistakeholder Ethos Award by ICANN on June 26, 2017.
The Multistakeholder Ethos Award honors members of the ICANN community who have served in essential roles in multiple ICANN working groups or committees and, for many years, made outstanding contributions to ICANN's multistakeholder model of Internet governance. ICANN recognized Hotta's contributions in ICANN community, presented the 2017 Multistakeholder Ethos Award at ICANN59 in Johannesburg, South Africa.
In the Award Ceremony, Hotta was introduced to the audience that he was well-qualified as a recipient who had played a pivotal role in ICANN community, demonstrated the spirit of collaboration for promoting consensus, proven his commitment to ICANN's multistakeholder model through 18 years of active participation and dedication.
In his acceptance speech, Hotta expressed his sincere appreciation to all the people who have led him, who have worked with him, and who have supported him, including all the community members.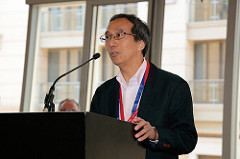 Hirofumi Hotta makes acceptance speech (photo credit:ICANN)
JPRS will continue to support and be engaged in the multistakeholder ICANN process and contribute to the sound development of the Internet in the future.
---
About JPRS
JPRS is a leading service provider for management and registration of domain names and for the domain name system (DNS) operations. The company was established on December 26, 2000. As a company dedicated to maintaining the Internet infrastructure of Japan, JPRS operates under a corporate philosophy which aims to contribute to the expansion of the Internet and to building a better future for people and society.
---
References
ICANN (Internet Corporation for Assigned Names and Numbers)
https://www.icann.org/
2017 Multistakeholder Ethos Award Honors Two Members of the Global Internet Community
https://www.icann.org/news/announcement-2017-06-25-en
---
Press Contacts
Japan Registry Services Co., Ltd. (JPRS)
TEL: +81-3-5215-8451 FAX: +81-3-5215-8452
E-mail:
press@jprs.co.jp
https://jprs.co.jp/en/
Chiyoda First Bldg. East 13F, 3-8-1 Nishi-Kanda
Chiyoda-ku, Tokyo 101-0065, Japan